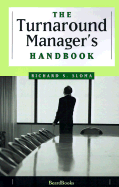 The Turnaround Manager's Handbook
By Richard S. Sloma


2000/01 - Beard Books
1893122409 - Paperback - Reprint - 242 pp.
US$34.95

This succinct guide presents a no-nonsense approach to restoring an ailing company to financial health, with a step by step methodology as to how to achieve it.

Publisher Comments

In this incisive manual Richard S. Sloma presents a restorative program to reestablish a company's financial health. The primary objective is to return it to a position of generating quality profits and cash flow. It covers the gamut of operational ills and prescribed treatments, with turnaround presented in logical stages: examining the symptoms of corporate distress, suggesting analytical tools, and recommending remedial actions tailored to the needs of the company.

From the back cover blurb:

Throughout, Sloma emphasizes data collection, analysis, and documentation as necessary adjuncts of a successful turnaround. In addition, he focuses on obtaining "buy-in" from the organization to ensure that the treatment will be carried out with commitment and measuring incremental improvements to ascertain progress.

Review by Gail Owens Hoelscher
From Turnarounds and Workouts, July 15, 2000
In the introduction to this book, the author suggests that an accurate subtitle could be "How to Become a Successful Company Doctor." Using everyday medical analogies throughout, he targets "corporate general practitioners" charged with the fiscal health of their companies.

As with many human diseases, early detection of turnaround situations is critical. The author describes turnaround situations as a continuum differentiated by length of time to disaster: "Cash Crunch; "'Cash Shortfall; "`Quantity of Profit," and "Quality of Profit,"

The book centers on 13 steps to a successful turnaround. The steps are presented in a flowchart form that relates one to another. Extensive data collection and analysis are required, including the quantification of 28 symptoms, the use of 48 diagnostic and analytical tools, and up to 31 remedial actions. (In case the reader balks at the effort called for, the author points out that companies that collect and analyze such data on a regular basis generally don't find themselves in a turnaround situation to begin with I)

The first step is to determine which of 28 symptoms are plaguing the company, The symptoms generally pertain to manufacturing firms, but can be applied to service or retail companies as well. Most of the symptoms should be familiar to the reader, but the author lays them out systematically, and relates them to the analytical tools and remedial actions found in subsequent chapters. The first seven involve the inability to make various payments, from debt service to purchase commitments, Others include excessive debt/equity ratio; eroding gross margin; increasing unit overhead expenses; decreasing product line profitability; decreasing unit sales; and decreasing customer profitability.

Step 2 employs 48 diagnostic and analytical tools to derive inferences from the symptom data and to judge the effectiveness of any proposed remedy. Says the author, "... If the only tool you have is a hammer, you will view every problem only as a nail!" He then proceeds to lay out all 48 tools in his medical bag, which he sorts into two kinds, macro- and micro-tools. Macro-tools require data from several symptoms or are used to assess and evaluate more than a single symptom, whereas micro-tools are more general purpose in function. The 12 macro-tools run from "The Art of Approximation" to "Forward-Aged Margin Dollar Content in Order Backlog." The 36 micro-tools include "Product Line Gross Margin Percent Profitability;" "Finance/Administration People Related Expenses As Percent Of Sales," and "Cumulative Gross $ by Region."

Next, managers are directed to 31 possible remedial actions. categorized by the four stage turnaround continuum described above. The first six actions are to be considered at the Cash Crunch stage, and range from a fire-sale of inventory to factoring accounts receivable. The next six deal with reducing people-related expenses, followed by 13 actions aimed at reducing product and plant-related expenses. The subsequent five actions include eliminating unprofitable products, customers, channels, regions, and reps. Finally, managers are advised on increasing sales and improving gross margin by cost reduction in various ways.

The remaining steps involve devising the actual turnaround plan, ensuring management and employee ownership of the plan, and implementing and monitoring the plan. The advice is comprehensive, sensible and encouraging, but doesn't stoop to clichO or empty motivational babble. The author has clearly operated on patients before and his therapeutics have no doubt restored many a firm's financial health.
Excellent resource, May 10, 2002
Reviewer: FA Rice (Amazon.Com) from Glen Rock, New Jersey United States
This book is right to the point with some very different tools to measure a business' future. I am a Certified Turnaround Professional and I found the introduction and definitions of Turnaround very useful since most people think of turnaround all wrong. I am getting a copy for an associate since I was so impressed.

Richard Sloma, an attorney and internationally acclaimed lecturer, draws on over 28 years of hands-on experience as a Board Member, Chairman, Chief Executive Officer, and Chief Operating Officer of several companies. He holds a J.D. from DePaul University and an M.B.A. from the University of Chicago. He is also the author of a number of other books on good business practices: No-Nonsense Management, No-Nonsense Planning, How to Measure Managerial Performance, and Getting it to the Bottom Line.

Other Beard Books by Richard S. Sloma

LIST OF FIGURES
vii
PREFACE
ix
INTRODUCTION: What This Book Is All About and How Best to Use It
xi
OVERVIEW: Just Thirteen Steps to Success!
SECTIONS
I.
What Is a Turnaround?
11
II.
What Is a Successful Turnaround?
27
III.
Symptoms of the Type of Turnaround
39
IV.
Diagnostic, Analytical Tools
69
V.
Remedial, Restorative Action
121
VI.
The Operating Organization -- Key to Turnaround Success
187
APPENDIXES
1.
Complete Catalog of Key Symptoms
205
2.
Kit of Macro-Tools
207
3.
Kit of Micro-Tools
208
4.
Arsenal of Remedial, Restorative Actions
211
5.
Action/Symptom/Analytical Tool Interreference Table
213
6.
Action/Turnaround Stage Relevance Charts
216
Index
LIST OF FIGURES
1.
Turnaround Management Flowchart (Overview)
2
2.
Burden Expense Symptoms Anatomy
53
3.
Engineering Expense Symptom Anatomy (Section III)
58
4.
Analysis of Change in Operating Pre-Tax (Section IV)
194
Charts for Actions 1 through 31 (Appendix 6)