Hospital Turnarounds: Lessons in Leadership
By Terence F. Moore and Earl Simendinger


1999/04 - Beard Books
1893122093 - Paperback - Reprint - 246 pp.
US$34.95

A five-stage typology is presented to minimize the trauma and maximize the potential for the survival and improvement of hospitals.

Publisher Comments

Hospitals and other health care institutions are experiencing a period of financial duress unprecedented in recent history. The number of hospitals that have closed their doors is at an all-time high, and many more might close within the next few years. This book is required reading for all health care professionals charged with the survival and improvement of their institutions, The authors' approach is sophisticated, comprehensive, and, most important, it works. While almost anyone can downsize an organization, the authors present a five-stage typology for turning around health care organizations - taking hold, emergence, reshaping, consolidation, and refinement. These steps are intended minimize the trauma while maximizing the hospital's potential, as well as protect the turnaround artist's own job in the process.

From Book News
Turnarounds (movement of a business from a loss to a profit position in one to two years) have been well documented in other industries, but only one other book has tackled hospitals, documenting the turnaround of one particular hospital.
Review by Susan Pannell
From Turnarounds and Workouts, June 15, 1999
If the health care institution you administer is, like so many others, experiencing a period of financial distress, find the time to read this book. The fourteen health care executives who contributed to the work have been in your position. Here, they share the lessons in techniques, tactics, and politics they learned from managing successful turnarounds in a myriad of health care environments. Each chapter presents a separate case history and focuses on a particular strategy, allowing the reader to concentrate on the issues of greatest individual interest,
A good place to begin might be by properly diagnosing your facility's problems and potential, following the guidelines in Chapter 1. Marketing and public relations tips (e.g., community meetings, a health kiosk in a local shopping center, direct mailings of hospital newsletters and physician directories) are provided in Chapter 2. An overall plan for a turnaround, including financial strategies and methods of streamlining administration, is laid out in Chapter 3, one of the most comprehensive sections of the book.
Chapters 4-6 focus on people management. Issues addressed include turnarounds in which substantial employee reduction was required; the value of education in handling people issues, including staff retreats; and the revitalization of a rural hospital where staff already had been cut to the bone and the facility's survival depended upon volunteerism at all levels, whether medical or administrative.
Reducing expenses is never enough; a successful turnaround requires revenue increases as well. Chapter 7 describes a turnaround accomplished by emphasizing the hospital's best-performing core services while letting go of nonperforming peripherals such as its retail pharmacy. This facility also developed a targeted marketing plan that concentrated on doing a few things very well, rather than trying to be all things to all people.
Leadership techniques, which include a strong customer orientation and good employee communications, are discussed in Chapter 8, while Chapter 9 tracks a lengthy turnaround over en eight-year period, including a description of the problems that led to the health care organization's decline in the first place.
Trying something entirely different might be the key to your turnaround. Chapter 10 documents the beneficial effect of initiating high-quality specialty programs such as cosmetic and cataract surgeries and impotency solutions in a small hospital. Chapter 11 analyzes the programs that were expanded and those that had to be discontinued to turn around a mid-sized hospital,
Almost anyone can downsize an organization. The art of the turnaround is to minimize the trauma while maximizing the hospital's potential, and protecting the turnaround artist's own job in the process. The principles in this book, first published in 1993, are equally sound and instructive in this 1999 reprint.
From Henry Berry,
Nightingale's Healthcare News
Hospital Turnarounds – Lessons in Leadership is a compilation of twelve essays on the many approaches that have been taken to resuscitate hospitals in distressed situations. Most of the essayists are CEOs or presidents of hospitals or healthcare organizations, and their stories are all different and compelling in their own way. The hospitals differ in their size, marketplace, facilities, and services offered. The causes of their distress vary and the strategies that were used to overcome them are wide-ranging. All-in-all, it makes for an engaging collection of success stories.
The authors have extensive experience in the healthcare system, and nearly all have held top leadership posts in several public and private hospitals. Most importantly, all have been involved in successful turnarounds at some time in their careers. Two of the authors are from the field of marketing, which can play a significant role in hospital turnarounds.
The number of troubled hospitals rises and falls over time, depending on many factors, including the state of the U.S. economy. There are always some hospitals in a distressed situation or teetering close to it. In spite of the fact that healthcare is a basic need in U.S. society, hospitals are constantly vulnerable to financial problems because of competition, changing medical technology, new approaches to healthcare from improved drugs and public awareness, and medical malpractice lawsuits. Any or all of these factors can be financially crippling and, even if the financial impact is minimized, a hospital's reputation can be damaged. Like any other business organization, hospitals can also run into difficulty because of poor management or labor problems.
The first and last chapters, "Introduction" and "Turnarounds: An Epilogue," respectively, are written by the co-editors. The balance of the chapters contain first-hand accounts of hospital turnarounds, with the authors asked by the co-editors to "document the role of the various publics." The authors do this, offering their assessment of the role of the board of directors, medical staff, management team, volunteers, and other relevant "publics" in the respective turnarounds. A common thread in this book is that the import and activities of these publics were different in every turnaround. Each turnaround had to address its own grievous, overriding problem or set of problems. Each turnaround had its own cast of characters who brought different backgrounds and skills to the turnaround. As a result, each path taken to overcoming the distressed situation was different.
No matter what the cause or causes of a hospital's distressed situation, in nearly every case the problems were first realized when a financial problem became apparent. Thus, turnarounds are inevitably focused on improving a hospital's financial situation. As one of the authors notes, "A turnaround is most often the result of increased revenues and decreased expenses." The approach taken by some of the authors was to focus on "[increasing] revenues to improve the operating margins of their organizations." Many other turnarounds were accomplished by focusing on reducing expenses. Invariably, however, a combination of both was needed and working toward these paired objectives required a new strategic thinking and the development of operational capabilities that prepared the hospital for long-term survival in continually changing market conditions. One author's prescription for success was, "Upward communication, fluidity of organizational structure, a reduction of unnecessary bureaucratic rules and policies, and ambitious yet realistic goals and objectives." These practices are present in healthy companies and usually missing in distressed companies. Implementation of these business practices is essential for a hospital to return to a favorable financial footing.
Another author addressed "organizational burnout," which must be corrected if a hospital is to survive. Burnout is evident when "the sum of an organization's actual output is decreasing over time when compared with its potential output." The challenge facing hospital executives and turnaround specialists is to reduce – and ideally, eliminate – the gap between actual and potential output. The smaller the gap, the more efficient, productive, and healthy the organization.
These are just a few of the observations and lessons provided in this collection of essays. Through engaging first-person accounts of rescue stories, the reader learns what a turnaround is all about, how to diagnose a distressed situation, and how to formulate a strategy that implements specific corrective actions.
Terence F. Moore has been involved in the Michigan hospital system as President and CEO of Mid-Michigan Health, Board Member of the Michigan Hospital Association, and Chair of the East Michigan Hospital Association. He is also a fellow of the American College of Healthcare Executives. Earl A. Simendinger is a professor of management at the College of Business at the University of Tampa who for 20 years was a hospital administrator. Also a fellow in the American College of Healthcare Executives, he has written many books and articles on management and organizational development.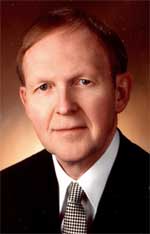 Terence F. Moore, MBA, MHA is president and CEO of Mid-Michigan Health headquartered in Midland Michigan. He is a fellow of the American college of Healthcare Executives, a past member of the board of the Michigan Hospital Association, and past chairman of the 23-member East Central Michigan Hospital Council. His most recent of many honors is the Meritorious Key Award from the Michigan Hospital Association, which he received in 1992. He has published 60 articles and two books, and is the coauthor or coeditor of five others.
Earl A. Simendinger, Ph.D.is a professor of Management at the University of Tampa, College of Business. He was a hospital administrator for 20 years; among his positions were the presidency of St. Luke's Hospital in San Francisco, California and a vice presidency

at University Hospitals of Cleveland Ohio. He is a fellow of the American College of Healthcare Executives and a member of the editorial review boards of the Journal of the American Medical Association, the Case Research Journal, the Journal of Health of Administration Education, and the Journal of Clinical Engineering. He is also the president of the Ivory Group, a management and organizational development consulting firm, and the author of numerous books and articles.

| | | |
| --- | --- | --- |
| | Acknowledgments | |
| | Introduction | 1 |
| 1 | Leadership Transition and Diagnosis in a Hospital Turnaround: A Contrast in Leadership Approaches | 5 |
| 2 | Public Relations and Marketing Aspects of a Turnaround | 27 |
| 3 | Turnaround Strategy in a Health Care System | 47 |
| 4 | A Financial Turnaround | 63 |
| 5 | Managing a Turnaround: From Confusion to Consensus | 77 |
| 6 | Revitalization of a Rural Hospital | 103 |
| 7 | Expense Reductions and Revenue Increases in a Hospital Turnaround | 121 |
| 8 | Leadership Techniques | 135 |
| 9 | The Long View | 149 |
| 10 | Product-Line Marketing to Increase Revenues in a Small Hospital | 165 |
| 11 | The Turnaround Imperative: From Vision to Results | 177 |
| 12 | Turnarounds: An Epilogue | 199 |
| | Index | 225 |
| | List of Contributors | 231 |
| | About the Editors | 235 |