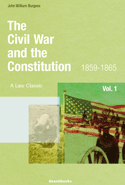 The Civil War and the Constitution: 1859-1865
By John W. Burgess
2000/05 - Beard Books - Law Classic
Volume I - 332 pp.
1587980142 - Paperback
US$34.95

Volume II - 358 pp.
1587980150 - Paperback
US$34.95



A complete portrait of the events, people, and legal issues that arose between 1859 and 1865.
Publisher Comments
This well-researched work covers the stages and battles of the Civil War, and expounds upon the constitutional issues that arose during the conflict. Broad issues are covered, such as secession, powers of the President, Congressional enabling acts to handle the rebellion, and emancipation of the slave population at the time. This two volume treatise also describes the roles of key individuals in the series of events, such as Abraham Lincoln, Jefferson Davis, and Stephen Arnold Douglas. An informative chronology is included. Must reading for students of history and for lawyers.

No book review available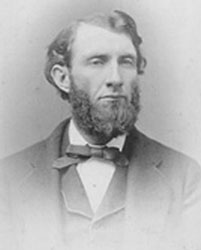 John William Burgess (1844–1931) was an American educator and political scientist, Born in Tennessee, he served in the Union army in the Civil War and after the war graduated from Amherst (1867). He was admitted to the Massachusetts bar in 1869, but did not practice. That same year he joined the faculty of Knox College. In 1871 he went to Germany, where he studied at the universities of Göttingen, Leipzig, and Berlin. He returned in 1873 to teach history and political science at Amherst. In 1876 he began his long association with Columbia; he was professor of political science and constitutional law until 1912. Burgess, with Nicholas Murray Butler, was a major influence in the creation (1880) of a faculty and school of political science, the first such faculty organized for graduate work in the country and the chief step in changing Columbia College into a university. He was dean of the Faculty of Political Science from 1890 until his retirement. In 1906–7 he served as first Roosevelt professor at the Univ. of Berlin. Burgess's fundamental political philosophy was expressed in Political Science and Comparative Constitutional Law (1890–91), the more permanently valuable portions of which were republished as The Foundations of Political Science (1933). He interpreted American history in The Middle Period, 1817–1858, The Civil War and the Constitution, 1859–1865, and Reconstruction and the Constitution, 1866–1876, a trilogy published between 1897 and 1902, to which was added The Administration of Rutherford B. Hayes (1915). In Recent Changes in American Constitutional Theory (1923) he protested against the encroachment of the federal government upon state and individual rights and immunities. He founded the Political Science Quarterly.

Volume I

Chapter I.
Davis, Lincoln and Douglas
1
Chapter II.
Anti-Slavery Sentiment in the South between 1857 and 1860
28
Chapter III.
The Presidential Election of 1860
45
Chapter IV.
Secession
74
Chapter V.
The Inauguration of Lincoln and the Condition of the Government He Was Celled to Administer
138
Chapter VI.
The Attempt of the Southern Confederacy to Negotiate with the Government of the United States
151
Chapter VII.
The Capture of Fort Sumter and the Call to Arms
167
Chapter VIII.
The Three Months' War
206
Chapter IX.
Preparation for the Three Years' War
226
Chapter X.
The Military Movements in the Late Summer and Autumn of 1861
243
Chapter XI.
Mill Springs, Fort Henry, Donelson, Shiloh, Pea Ridge and Island No. 10
276
Volume II
Chapter XII.
The Capture of New Orleans
1
Chapter XIII.
McClellan's Campaign against Richmond
7
Chapter XIV.
Pope's Campaign in North-Eastern Virginia
44
Chapter XV.
Bragg's Invasion of Kentucky
61
Chapter XVI.
Emancipation
72
Chapter XVII.
Antietax
89
Chapter XVIII.
The Proclamation of Emancipation and the Downfall of McClellan
97
Chapter XIX.
Fredericksburg
106
Chapter XX.
The president's Order Executing the Emancipation Proclamation
114
Chapter XXI.
The Perryville-Murfreesborough Campaign
119
Chapter XXII.
Confederate Attempts to Regain the Coasts of Virginia and North Carolina
131
Chapter XXIII.
Chancellorsville
134
Chapter XXIV.
Vicksburg and Port Hudson
146
Chapter XXV.
Gettysburg
157
Chapter XXVI.
The Chickamauga-Chattanogga Campaign
180
Chapter XXVII.
The Movements in North-Eastern Virginia in the Autumn of 1863, and the Charleston Expedition
206
Chapter XXVIII.
Interpretation of the Constitution Under the Stress of the Military Events of 1862 and 1863
214
Chapter XXIX.
The Capture of Atlanta
234
Chapter XXX.
The Wilderness Campaign and Early's Dash for Washington
247
Chapter XXXI.
Sherman's March Through Georgia, and Hood's March to Nashville
261
Chapter XXXII.
The Last Blows
271
Chapter XXXIII.
The International Complications During the Latter Years of the Civil War
288
Chronology
315
Index
321