Social Security in the United States: An Analysis and Appraisal of the Federal Social Security Act
By Paul H. Douglas


2000/07 - Beard Books - Law Classic
158798055X - Paperback - Reprint - 396 pp.
US$34.95

An informative treatment of the original Social Security Act and the steps leading to its enactment, as well as some of its effects and an early appraisal of its future.

Publisher Comments

Economists and lawyers will find it fascinating to read this analytical treatment of the original Federal Social Security Act and the steps that led to its enactment. The author discusses the response by the States, the problem of private pension plans, and the constitutional prospects for its future. Since the Act is labeled as "full of weaknesses" and "strikingly incomplete," and should be considered only as a first step in crafting a government run pension system, the author outlines what might be some appropriate next steps.

No book reviews available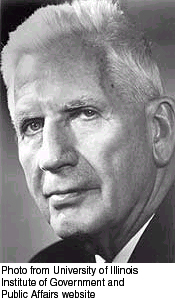 Paul H. Douglas (1892-1976) graduated from Bowdoin College in 1913, did graduate work at Harvard and Columbia Universities, and received a Ph.D. degree from Columbia University in 1920. He then began a teaching career at the University of Chicago and was promoted to professor of economics in 1925. He was appointed to the Illinois State Housing Commission in 1930, and was elected a Chicago Alder-man from the Fifth Ward in 1939. In 1942, Mr. Douglas enlisted as a private in the Marine Corps, was twice wounded and was awarded the Bronze Star. Upon his return to Chicago in late 1946, he resumed his position on the University of Chicago faculty where he authored a number of well-known books on economic subjects. He was elected President of the American Economic Association in 1947, the highest honor in his profession. Mr. Douglas was elected to the United States Senate in 1948 and served two additional six-year terms.

| | | |
| --- | --- | --- |
| | PART ONE: THE BACKGROUND | |
| Chapter I. | The Tide Turns | 3 |
| Chapter II. | The Problems before the Committee on Economic Security | 28 |
| Chapter III. | Thunder on the Left | 69 |
| Chapter IV. | The Legislative History of the Security Act | 84 |
| | | |
| | PART TWO: THE FEDERAL SECURITY ACT | |
| Chapter V. | Old-age Assistance and Insurance | 129 |
| Chapter VI. | Unemployment Insurance | 151 |
| Chapter VII. | The Welfare Features of the Act | 185 |
| Chapter VIII. | Administrative Features and Possibilities | 206 |
| | | |
| | PART THREE: WHAT LIES BEFORE US | |
| Chapter IX. | The Response of the States | 231 |
| Chapter X. | Some Needed Next Steps | 271 |
| Chapter XI. | Private Pension Plans and the Clark Amendment | 292 |
| Chapter XII. | Constitutional Prospects | 306 |
| | Addenda -- (October 30, 1936) | 323 |
| | Bibliographical Note | 325 |
| | Appendix | 327 |
| | Index | 377 |