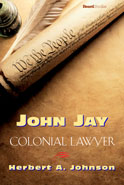 John Jay – Colonial Lawyer
By Herbert A. Johnson


2006/10 - Beard Books
1587982706 - Paperback - Reprint - 242 pp.
US$34.95

A detailed and engrossing legal biography of the man who became the first Chief Justice of the United States.

Publisher Comments

John Jay (1745-1829) was admitted to practice in New York's colonial courts in 1768. The twenty-three year old descendant of old New York families struggled to build his professional career, only to have public duty interrupt his climb to status at the Bar and financial success. Active in the deliberations of the Continental and Provincial Congresses, Jay played a major role in drafting New York's first constitution (1777) and was elected to serve as the first Chief Justice of the state's Supreme Court. On the national level, he was chosen to be President of the Continental Congress, and with Benjamin Franklin and John Adams, he negotiated the 1783 Peace Treaty formalizing American independence from Great Britain. After four years' service as the Confederation government's Secretary of Foreign Affairs, he was selected by President Washington to be the first Chief Justice of the United States Supreme Court. This book, for all interested in legal history, is the result of exhaustive study in the court records and manuscript collections of colonial New York. From that effort there emerges an analysis of the interrelated details of Jay's professional and private life. Despite the limited time and scope of his practice, Jay in his mid-twenties began to exhibit work habits and personality traits that would serve him well in his distinguished career of public service to New York State and the United States.

No book reviews available.

Herbert A. Johnson is Distinguished Professor of Law Emeritus at the University of South Carolina. He was admitted to the New York Bar in 1960 and in 1965 serving as a lecturer in history at Hunter College of the City University of New York His academic reputation, such as it is, rests upon his persisting interest in the lives of Chief Justices of the U.S. Supreme Court. Johnson's study, The Chief Justiceship of John Marshall, 1801-1835, was published by the University of South Carolina Press in 1997. He and his wife Jane reside in Franklin, North Carolina.

No table of contents available.