Doing Justice: A Trial Judge at Work
By Robert Satter


2005/02 - Beard Books
1587982455 - Paperback - Reprint - 256 pp.
US$34.95
Thirty years of wisdom and experience are behind this commendable discussion of what a judge actually does, as told by a currently active judge.
Publisher Comments
Julius Caesar in a moment of wisdom said, " Who will guard the guards?" In this particular case, who will judge the judges? You can do just that by reading this exemplary book, which seats the reader beside a trial judge to observe the human dramas unfolding in the courtroom and challenges him to reflect on how he would decide.
Revealed are the difficult dilemmas a judge must resolve every day: whom to believe when litigants provide contradictory testimony; what sentence to impose when the jury convicts the accused; how to interpret ambiguous statutes or conflicting precedents to arrive at a just decision. An antidote to courtroom fiction on TV, this down-to-earth book shows how the law actually works in real life. In this reprint edition, the author, a judge currently on the bench, shares his observations and, in an opening note, identifies the qualities that make a good judge.

From the Washington Post Book World:
Clear prose, ample opportunities for the reader to play judge.
From The Atlantic:
Describes what a judge actually does...[I]t serves the purpose of lucid instruction well.
From The Hartford Courant:
A major contribution to the world of judicial literature.
From Publishers Weekly:
In 15 years on the bench, Satter, judge of the Connecticut Superior Court, has heard cases involving murder, rape, custody, child abuse, medical malpractice, divorce, juvenile crime, robbery, housing and inheritance disputes, and even a plane crash. Although stiffly written, this unusual report offers a rare personal glimpse of the judicial decision-making process. For Satter, the art of judging consists of finding valid ways to implement the stirrings of his heart. He stresses that he often goes by intuition, and that he is sensitive to the connection between urban poverty and crime. A parade of stumbling or theatrical lawyers, dubious or solid witnesses marches through this brief, which includes sensible proposals for remedying defects in the way jury trials are conducted.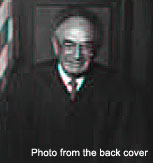 Robert Satter served as a judge on the Connecticut Superior Court for more than thirty years and taught at the University of Connecticut law school. Before appointment to the bench, he was a prominent Hartford lawyer, a member of the state House of Representatives, and general counsel to the Democratic party legislators. He received his B.A. from Rutgers University and his LL.B. from Columbia University. Judge Satter passed away on on January 16, 2012, at the age of 92.

| | | |
| --- | --- | --- |
| | Introduction | 11 |
| 1. | Opening Court | 17 |
| 2. | Here Comes the Judge | 26 |
| 3. | Whom to Believe? | 39 |
| 4. | Heart v. Mind | 51 |
| 5. | How I Decide a Court Case | 63 |
| 6. | Civil Trial by Jury | 80 |
| 7. | Bargaining over Pain and Disability | 99 |
| 8. | More on Civil Jury Trial | 112 |
| 9. | Does the Civil Jury System Work? | 126 |
| 10. | Criminal Cases | 140 |
| 11. | Murder Trial | 153 |
| 12. | Dilemmas of Sentencing | 170 |
| 13. | Where Has Love Gone? | 186 |
| 14. | Prisoners of Their Future | 202 |
| 15. | The Face of Poverty | 215 |
| 16. | On Being Reversed and Sitting on the Supreme Court | 227 |
| 17. | Summing Up | 240 |
| | Index | 247 |