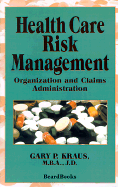 Health Care Risk Management: Organization and Claims Administration
By Gary P. Kraus


2000/06 - Beard Books
1587980185 - Paperback - Reprint - 346 pp.
US$34.95

This book is an important addition to the field of health care risk management since it combines the theory of risk management with its implementation and the law of risk management with practical implications for managers.

Publisher Comments

Risk management is a complex set of tasks, functions, and decisions aimed at reducing financial loss. Intended for students, instructors, management, and health professionals alike, the book covers all the broad elements of health care risk management, with exercises, extensive references, and a comprehensive glossary of terms.

From the back cover blurb:

More than ever before, health care facilities and professionals need to guard against unexpected financial losses from casualty, worker's compensation, and professional liability. Risk management is that complex set of tasks, functions, and decisions carried out with the objective of reducing such losses. The field of risk management in the health-care industry developed out of the deluge of malpractice cases which stunned the medical community in the late 1960s and led to soaring insurance claims and premiums.

This book treats all the broad and divergent elements of health care risk management, and is aimed at students, instructors, management, and health professionals alike. Risk management is divided into three processes: exposure of risk identification; risk measurement or evaluation; and risk handling or treatment. Managers first analyze exposure areas of an organization so that risks contained within it can be identified. Next they evaluate the risk by applying analytical skills and decision-making techniques to the risk areas to determine their potential for occurrence and the inherent financial impact. Finally, managers decide how the risks that have been identified and measured are to be handled by the organization. Risk handling includes risk financing, which may include retention, transfer, and self-financing of risks and exposure areas; and risk control, which includes avoidance, shifting, and prevention of risks.

The text provides meaningful exercises, extensive references, and a comprehensive glossary of terms. It is well balanced, thorough, and provides an excellent overview of its subject.

From Henry Berry, Nightingale's Healthcare News:
Health Care Risk Management – Organization and Claims Administration is written by professionals who have been involved at the highest levels of risk management in healthcare organizations. One of these professionals is the editor, Gary Kraus. Kraus is the author or coauthor of approximately one-half of the chapters. Another is Joan Rines, a director of a college health information management program.
Kraus begins by clarifying the concept of risk management, which he says is "a series of tasks and functions, the purpose of which is to reduce planned or unexpected financial loss to an organization." While others in the field may define it differently, Kraus notes that risk management is universally understood to be a way to minimum exposure to loss.
There are many types of risks in running an organization, and Kraus uses the example of a restaurant to clarify the sorts of risk that management should be concerned with. He explains that the risk that a restaurant will suffer a financial loss as a result of poor management, bad location, or competition is not a risk that risk management should be concerned with nor should deal with in any respect. On the other hand, risk management does extend to preventing fires that can cause a restaurant to close its doors, which could result in a significant financial loss. These are the types of risk that management can and should address.
As Kraus explains, the difference between the two kinds of risks is that the former is predictable: success or failure is tied to proven factors that apply to practically all restaurants. On the other hand, the risk of a fire is unpredictable with respect to any particular restaurant, albeit not inconceivable and, in fact, a certainty among the total universe of restaurants. Some restaurants never have a fire, but there are always fires in restaurants.
Risk management is more critical to healthcare than almost any other field. There are few healthcare organizations of any size and scope where the risks that Kraus delves into have not, in fact, occurred. In healthcare, risk management cannot eliminate financial loss, but it can be very effective in reducing financial loss. This is the point of Kraus's book – which he explores with exceptional depth and knowledge.
Large, complex, modern-day healthcare organizations are exposed to inherent and inevitable risks from both internal and external factors. The main internal risks that healthcare organizations face are from employee injuries and workers' compensation claims and, in some cases, from related lawsuits. The main external risks are from lawsuits and other claims stemming from alleged mistakes and negligence in patient treatment and care. Services ranging from emergency care to inpatient and long-term care to outpatient care each come with its own risks. All of these risks can be managed with a comprehensive risk management program tailored to the particular operations of the organization. While there are general elements and advice applicable to any risk management program, the particularities of work force, location, facilities, services, goals, and so forth require a risk management program tailored to each organization.
The book's content is sufficiently detailed to provide a foundation for designing a specific risk management program, and guidance is offered on how to implement it. Methodically, informatively, and thoroughly, Kraus builds a risk management program, beginning with the basic definition he gives at the start of the book and then moving to basic elements, considerations, and purposes. He then introduces organization-specific considerations. For example, healthcare organizations must identify general and specific risks, assess the probabilities of the risks occurring, evaluate the corresponding levels of possible financial loss, and, lastly, design policies, practices, and procedures for managing those risks.
While risk management is an ongoing, organization-wide process that involves all employees – even, and perhaps most importantly, those outside the risk management operation – an optimal risk management program requires a risk manager. "The role of the healthcare facility risk manager is primarily that of a coordinator and facilitator of the risk management process carried out by others," offers Kraus. In addition to coordinating and facilitating, the work of the risk manager falls into the "category of risk prevention and identification."
Kraus recognizes that some in the field believe risk management should concentrate on improving patient care. He takes the position, however, that "this is inconsistent with the purpose of risk management and represents the frequent misunderstanding of the total risk management process." The purpose and aim of risk management for Kraus is guarding an organization against significant or serious financial losses. With this book, first publiched in 1989, he tells how this is done.
Gary P. Kraus has been the Director of Professional Liability and Risk Management and also a Professor of Health Services Management at the University of Missouri. He has also served as this state's attorney general. His latest positions are founding partner of Registrar, Incorporated and fellow at the American Society for Health Care Risk Management.
From Peter Free (Amazon.Com) from Beale AFB, CA USA
(1) Editor Kraus' logically excellent framework for risk management in the hospital setting is unfortunately dated. Originally published in 1986, it was reprinted without revision in 2000. The organizational and management data provided comes from the 1970s and early 80s. (2) I'm not a risk manager and am not competent to comment in detail about the material included. However, my limited medical training questions the wisdom of relying on a 15-year old text. The risk-checklists for Obstetrics, Surgery, and ER, for example, are logically excellent, but to the degree they comment on specific medical practices, they should probably not to be trusted. Similarly, the otherwise superb Medical Records section is marred by its failure to mention and analyze the computerization of medical charts that innovative hospitals now use. These shortcomings lead me to wonder if the business-organizational models provided are also outdated. (3) Legal training leads me to doubt the practicality of depending on a framework provided by old case law. One is left wondering how much Health Law has changed since the early 80s. Surely burgeoning regulation has implications for risk management that are not mentioned in the text. In the book's defense, much of the law cited is tort law-a field that changes slowly. (4) Aside from the currency issue, the text is reasonably good. The logical framework of the ideas provided is outstanding. However, the collected essays suffer from some redundancy, and the writing is often academically verbose. (5) Overall, I hesitate to recommend the volume, excellent though its ideas are. The datedness issue means that the reader will have to update Kraus' information with significant data from more modern sources. Since medical texts are revised every four to six years, fifteen years for a related discipline seems too long.

Gary P. Kraus was born in Southern California and received an undergraduate degree from Tulane University and a MBA from George Washington University. He became a Clinic Administrator and Instructor at Tulane University School of Public Health and Tropical Medicine, and then moved to St. Louis to become an Assistant Professor and Director of Allied Health at Maryville College. After graduation from the Law School at Washington University, he became the Chairman of the Department of Health Administration at the University of Health Sciences/Chicago Medical School. He then became the Director of Professional Liability and Risk Management, as well as the Professor of Health Services Management at the University of Missouri. He also became a faculty member for the Joint Commission on Accreditation of Health Care Organizations. A return to Chicago followed as an Assistant Legal Counsel and Director of Risk Management at Northwestern Memorial Hospital. Later, he was the Director of Quality Risk Management of the American Association of Nurse Anesthetists. He then returned to Missouri to become an Assistant Attorney General. Today, he is a founding partner of Registrar, Incorporated, and is a fellow of the American Society for Health Care Risk Management. Mr. Kraus is married and has two sons.

| | | |
| --- | --- | --- |
| | Contributors | xi |
| | Foreword by Kurt Darr | xiii |
| | Preface | xv |
| | Acknowledgments | xvii |
| Chapter 1 | Introduction to Risk Management | 1 |
| | Definition and Purpose | 1 |
| | The Risk Management Process | 3 |
| | Summary | 16 |
| | Chapter Exercise | 16 |
| | Questions | 18 |
| | References | 19 |
| Chapter 2 | Risk Management Program Design | 21 |
| | Organizational Models | 22 |
| | Inter-institutional Relationships | 31 |
| | Risk Management and Quality Assurance | 35 |
| | The Role of the Medical Record Department in Quality Assurance | 40 |
| | Internal Office Organization | 47 |
| | The Risk Management Committee | 50 |
| | Summary | 54 |
| | Chapter Exercise | 55 |
| | Questions | 55 |
| | References | 56 |
| Chapter 3 | The Risk Manager | 57 |
| | Role of the Risk Manager | 57 |
| | Educational and Experience Prerequisites | 63 |
| | Job Descriptions and Compensation | 68 |
| | Professional Societies and Credentialing | 71 |
| | Summary | 75 |
| | Chapter Exercises | 75 |
| | References | 75 |
| Chapter 4 | The Risk Management Information System | 77 |
| | Risk Management Communications | 77 |
| | Incident Screening | 86 |
| | Computerized Filing and Report Systems | 89 |
| | Summary | 95 |
| | Chapter Exercises | 95 |
| | References | 96 |
| Chapter 5 | A Summary of Health Provider Liability Law | 97 |
| | Fundamentals of Liability Law | 97 |
| | Corporate Negligence | 106 |
| | Respondeat Superior | 107 |
| | Informed Consent | 110 |
| | Privacy and Confidentiality | 118 |
| | Antitrust Law | 120 |
| | Labor and Personnel Issues | 123 |
| | Medical Staff Issues | 128 |
| | Workers' Compensation Law | 132 |
| | Summary | 142 |
| | Chapter Exercises | 143 |
| | References | 144 |
| Chapter 6 | Adverse Occurrence Screening and Investigation | 149 |
| | The Potential Compensable Event | 151 |
| | P.C.E.s and Occurrence Screening | 153 |
| | Record and Evidence Preservation | 157 |
| | Inquiry Procedures | 159 |
| | Witness and Actor Interviews | 162 |
| | Case Verification | 164 |
| | Case Evaluation and Decision Making | 165 |
| | Summary | 168 |
| | Chapter Exercise | 169 |
| | Questions | 169 |
| | References | 169 |
| Chapter 7 | Strategy, Settlement Techniques, and Litigation Defense | 171 |
| | Lawsuit and Claims Management Filing System | 172 |
| | Relationships with the Insurance Company | 175 |
| | Prelitigation Strategy | 178 |
| | Plaintiff Strategy | 180 |
| | Ethical, Legal, and Administrative Considerations | 183 |
| | Settlement Techniques | 185 |
| | Risk Management and Defense Counsel | 187 |
| | Releases and Related Instruments | 189 |
| | Structured Settlements | 193 |
| | Summary | 197 |
| | Chapter Exercises | 198 |
| | References | 199 |
| Chapter 8 | Developing and Implementing a Comprehensive Risk Prevention Program | 201 |
| | Defining Risk Prevention Activities | 201 |
| | Setting Institutional Priorities | 202 |
| | Addressing Institutional Priorities | 215 |
| | A Selection of Literature on Risk Management, Law, and Quality Assurance | 220 |
| | Summary | 223 |
| | Chapter Exercise | 223 |
| | References | 224 |
| Chapter 9 | The Medical Record and Risk Management | 227 |
| | The Importance of the Medical Record | 227 |
| | The Purpose of the Medical Record | 228 |
| | Failure to Comply with Minimum Requirements for Medical Record Keeping | 229 |
| | Rules of Medical Record Keeping | 230 |
| | Risk Management Uses of the Medical Record | 241 |
| | The Medical Record and Confidentiality of Patient Information | 244 |
| | The Medical Record Department's Role in Risk Management | 248 |
| | The Role of Medical Record Practitioners in Risk Management | 251 |
| | Suggestions for Improved Medical Record Maintenance | 254 |
| | Summary | 255 |
| | Chapter Exercises | 255 |
| | References | 256 |
| Chapter 10 | Risk Management in the Future | 259 |
| | The Liability and Malpractice Crisis | 259 |
| | Legislative Reforms and Curative Measures | 264 |
| | Early Dispute Resolution: Model for an Internal Program | 269 |
| | Summary | 274 |
| | Chapter Exercises | 274 |
| | References | 275 |
| | Glossary of Legal and Insurance Terms | 277 |
| | Index | 321 |
| | | |
| | Contributors | |
| | Thomas S. Gaudiosi | |
| | Joan T. Rines | |
| | Phyllis S. Solomon | |
| | Nancy J. Sublette | |
| | David Tapp | |
| | Herb Squire | |
| | Jacquelyn Goldberg | |