Fashion, Retailing and a Bygone Era: Inside Women's Wear Daily - A Look Back
By Isadore Barmash, Edward Gold, Marvin Klapper, Sandy Parker, Sidney Rutberg, Mort Sheinman, and Stanley Siegelman


2005/05 - Beard Books
1587982692 - Paperback - 170 pp.
US$34.95

The insider's view of the trade paper that reflected and influenced the fashion industry.

Publisher Comments

This is a new book about the famous fashion industry trade paper and some of the people who led it, read it, and made it work for the industry now doing in excess of $150 billion at retail. Once described as the bible of the industry, revealing and engrossing incidents from the period from 1947 to 2000 are described by seven of its former editors. This chronicle of an industry and a country coming of age will prove fascinating reading for all.

Michael Gould, Chairman and Chief Executive Officer of Bloomingdale's:
This book is not only the story of Women's Wear Daily but also a wonderful journey through the fashion world. It was written by seven experts of that field. I enjoyed reading it.
From Books-on-Line.Com:
There are a few newspapers that reach the status of a must read. And there was a time when Woman's Wear (as it was called) was right up there with the Wall Street Journal, or Variety. Each of these is basically a specialty newspaper that covers one industry. Woman's Wear obviously covered the Rag Trade. From some time in the early 1950's to the end of the 1960's Woman's Wear was a must read. Today it is still a big paper, but nothing like it was.
This book is the personal recollection of seven of the editors that made Woman's Wear what it was. They held verious positions on the paper and tell the stories with wit and a tenderness about the paper they obviously loved. Most of the stories, like the stories we remember of our own career are short with unexpected endings. The things that make a good story. And good stories make a good newspaper or even a book.
This is not a serious tome, but a delightful read about a time now gone.

All seven are former editors of Women's Wear Daily.
Edward Gold spent 40 years at Fairchild Publications, 15 years on the editorial side and 25 as Manager of Fairchild Books. As reporter and columnist, he began on Women's Wear Daily, covering sales promotion and branch stores for the feature section, "Store Operations." After seven years covering the very volatile fur market, and a brief spell on general news, he was named Retail Management Specialist for all Fairchild merchandising papers, a post he held for five years until moving on to the Book Division. He took over what was in the mid-sixties a non-profit unfocused "vanity press" operation. He found a niche in the fashion education market and put the operation in the black in his second year, and stayed there until his retirement in 1991. Fairchild Books and WWD, sister operations, still function as part of the Newhouse publishing empire.
Marvin Klapper's 45-year career with Fairchild Publications began in 1947 when he joined the firm's Market Research department. A veteran of World War II, he served in the Army in the European Theater of Operations as a member of the 308th Artillery Battalion of the 78th Division. He has authored several books: Legacy in Lace, Reflections of a Lace Man, Fairchild's Fabric Almanac, and Dan River's Dictionary of Textile Terms. His love has always been fibers and fabrics, he says, because they are the stuff fashion is made of and that has always been the name of the game at Women's Wear Daily. Called "Mr. Fabrics," he retired in 1992 as an Associate Editor of Women's Wear Daily and Senior Textile Editor, after having been a reporter, columnist, and Editor-in-Chief of Home Furnishing Daily. His Fabric Editor was the legendary Ann Mullany, whose primary instructions to him were to stop chewing pencils and wear glasses.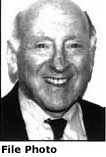 Fairchild Publications was Sidney Rutberg's home for nearly 50 years. He jointed the company on June 19, 1949, his first wedding anniversary, and retired on February 1, 1998. He was Financial Editor and columnist for 31 years at Women's Wear Daily and Daily News Record, both published by Fairchild Publications. Prior to taking over as financial editor, he covered the bankruptcy courts for Fairchild for about ten years. It was this experience that led to the writing of his first book, Ten Cents on the Dollar published by Simon & Schuster. Since then he has written four others on financial subjects: The Money Balloon; The Joy of Expense Account Living; Playboys' Investment and Financial Planning Guides for Singles; and a history of asset lending published by the Commercial Finance Association. He is Contributing Editor to The Secured Lender, a publication of the CFA. A 1949 graduate of Brooklyn College with a BA degree, he served in the U.S. Army for three years in the European and Japanese theaters and was awarded the Combat Infantry Badge.

Other Beard Books by Sidney Rutberg:
Mort Sheinman was with Women's Wear Daily for about 40 years, arriving in May 1960 and retiring on January 3, 2000. With the exception of the period from October 1965 to February 1969, when he sold advertising space for the newspaper before recovering his sanity and returning to the newsroom, he was a reporter and editor. His First assignment was to cover the lingerie and store display markets. He later reported on the ready-to-wear and fabric industries. He became Managing Editor of Women's Wear Daily in 1971 and held that post until his retirement. In addition to his editing chores, he wrote numerous profiles for the paper on personalities as diverse as Alistair Cooke and Zero Mostel. He was also one of the original editors of W magazine and was Managing Editor for the first decade of its existence. At W, he contributed profiles and adventure travel articles, often accompanied by his own photographs. He has also taught journalism at the Fashion Institute of Technology in New York.
Stanley Siegelman joined Women's Wear Daily in 1950, with a master's degree in 18th century English literature from Columbia University. He served as News Editor in a variety of major markets, rising to the post of Assistant Managing Editor. His tenure included editorial positions on two other Fairchild newspapers: Daily News Record and Drug News Weekly. He left Fairchild in 1968 to become Editor-in-Chief of American Druggist Magazine, a publication of the Hearst Corporation.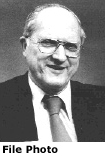 A native of Philadelphia, Pennsylvania, Isadore Barmash attended local schools, including West Philadelphia High School and the Charles Morris Price School of Advertising and Journalism, a professional school from which he graduated in 1941 with a journalism degree. He served with the U.S. Army in the Pacific from 1942 through 1945 as a Staff Sergeant in Ordnance and then in the Adjutant General's department where he was approved for a Warrant Officer appointment. He attended Queens College in New York for two years. In 1947, he jointed Fairchild's Philadelphia Bureau as a reporter, becoming Bureau Chief three years later. In 1951 he was appointed Chief of Fairchild's central copy desk. In 1959, he was named Managing Editor of Women's Wear Daily. In 1960, he was appointed Editor-in-Chief of Home Furnishing Daily. In September 1962, he became staff business writer for the New York Herald Tribune and in 1965 jointed the New York Times. He retired from the Times in August 1991. Since the, he has been freelancing and writing books.

Other Beard Books by Isadore Barmash:

Preface
vi
Prologue
vii
Introduction
vii
I.
REFLECTIONS By Mort Sheinman
1
The 12th Street Rag
2
Heeeeere's Johnny!
11
Drop That Name
23
II.
THE KLAPPER CHRONICLES By Marvin Klapper
35
A Place To Hang A Hat
36
The Fashion Flagship
38
The Game of Power
40
Come In And Shut The Door
44
The Callaway Tapes
48
Fireball
52
The Morning Meeting
55
The Cockamamie Psychiatrist
60
Parties...We Got Parties
62
Always On Sunday
66
A Throw-a-hole
69
The Bombs of Thule
72
III.
THE TOUCH OF GOLD By Edward Gold
75
Eye On Vogue
76
Stop The Press
79
Where He Sat
82
IV.
LIFE AT FAIRCHILD By Isadore Barmash
85
A Leap Forward
86
An Ugly Ending
102
V.
FIFTY CREDITABLE YEARS By Sidney Rutberg
113
Money...The Bottom Line
114
VI.
LOVE ON THE FLOOR By Stanley Siegelman
131
Where Fashion And Passion Met
132
The Sign On The Ceiling
136
VII.
THE FUR MAVEN By Sandy Parker
141
Life On The Desk
142
The Wonderful World Of Furs
145
A Woolen Yarn
149
The Night We Elected Tom Dewey President
150
Index
153