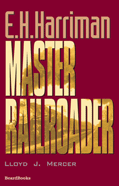 E. H. Harriman: Master Railroader
By Lloyd J. Mercer


2003/06 - Beard Books
1587981602 - Paperback - Reprint - 200 pp.
US$34.95

Here is an honest, balanced portrait of the man, based not on emotion, but on scientific analysis of his accomplishments.

Publisher Comments

This fascinating look at E.H. Harriman, the man, railroad financier, and manager, helps to dispel the myths about this entrepreneurial giant and to define the valuable legacies that he left to following generations. Lloyd J. Mercer sketches Harriman's career from an office boy of fourteen to chief executive of the greatest railroad system in the United States, if not the world, examining in detail each of Harriman's major railroad endeavors. Harriman was more than just a business icon. A philanthropist, conservationist, and naturalist, he fostered activities that showed a genuine concern for people and the preservation of our natural resources.

From the back cover blurb:

... Harriman's business acumen culminated in rebuit and reorganized railroads that improved the efficiency of the railroad transportation system in the United States, if not the world...

From Book News, Inc.
Railroad financier E.H. Harriman (1848-1909) was one of the most influential figures in American railroading at the turn of the twentieth century. In this biography, Mercer (economics, U. of California-Santa Barbara) describes Harriman's life and career, examining in detail each of his major railroad endeavors. The volume is a reprint of a 1985 edition published by G.K. Hall & Company. Annotation ©2003


Lloyd J. Mercer is a Professor of Economics at the University of California in Santa Barbara, where he has taught for 36 years. He holds a Ph.D. from the University of Washington. He has published numerous articles in the areas of economic history and water resource economics. Photo from back cover.
Other Beard Books by Lloyd J. Mercer:

| | | |
| --- | --- | --- |
| | List of Tables | vii |
| | Chronology | ix |
| Chapter One | Introduction | 1 |
| Chapter Two | The Harriman Business Career | 8 |
| Chapter Three | Learning the Business: The Illinois Central, 1883-1909 | 24 |
| Chapter Four | Applying the Lessons: The Union Pacific, 1897-1909 | 49 |
| Chapter Five | Combining Systems: The Southern Pacific, 1901-1909 | 67 |
| Chapter Six | Captain of Finance: The Northern Securities Company and Its Aftermath | 88 |
| Chapter Seven | Looting or Improved Management? The Chicago & Alton | 104 |
| Chapter Eight | Minor Plays: The Kansas city Southern, the Baltimore & Ohio, and the Erie Railroad Company | 126 |
| Chapter Nine | Under Attack: The ICC Investigation 1906-1907 | 144 |
| Chapter Ten | Lessons for the 1980s and Beyond | 160 |
| | Notes and References | 169 |
| | Bibliographical Essay | 172 |
| | Index | 183 |
| | About the Author | 188 |