Crafting Solutions for Troubled Businesses: A Disciplined Approach to Diagnosing and Confronting Management Challenges
By Stephen J. Hopkins and S. Douglas Hopkins


2006/09 - Beard Books
1587982870 - Hardcover
US$74.95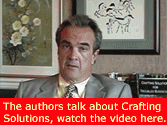 Crafting Solutions for Troubled Businesses will change the way you think about the problems of businesses in distress.
The book will be of great value to turnaround management practitioners, lenders facing loan covenant defaults, Board Members of struggling companies who need a basis for evaluating and assisting their management to realistically confront problems, and private equity firm management facing problems with portfolio companies or seeking to identify turnaround investment opportunities
Publisher Comments
In this practical (and opinionated) guide to evaluating and addressing the challenges of overleveraged and underperforming companies, the authors provide practical advice regarding key tasks critical to understanding how to maximize the value of a troubled business, including:
Identifying the difference between bad management and a bad business;
Assessing risks and opportunities in order to diagnose turnaround potential;
Determining when replacement of management is required; and,
Negotiating consensus, support, and a path to mutual benefit among contentious and disillusioned constituents.
Based upon detailed analysis of 100 distressed situations on which they have worked, the authors identify patterns of problems and conclude that financially troubled companies can generally be segmented into one of the following classifications: Undisciplined Racehorses; Overburdened Workhorses; and Aging Mules.
Undisciplined Racehorses: Growth businesses that often suffer from isolated and correctable strategic errors or operating deficiencies.
Overburdened Workhorses: Mature, viable businesses with an established market position that have been saddled with excessive debt-service obligations.
Aging Mules: Companies in decline, stubbornly clinging to strategies better suited for the past while being outpaced by nimbler, more flexible competitors.
Using these classifications as a conceptual framework, the authors offer extensive, fact-based problem diagnosis and solution tools, and show how to "separate the wheat from the chaff and maximize the value of each."

Review by John F. Wall
Turnarounds and Workouts, October 15, 2006:
So, the first thing to do when dealing with a troubled business is to find the guilty and lop someone's head off! Don't be so quick to react, advise co-authors Stephen J. Hopkins and S. Douglas Hopkins in their thoughtful, well-researched book, Crafting Solutions for Troubled Businesses.
The father-son team of Steve and Doug Hopkins are principals of Kestrel Consulting, LLC, a firm they founded in March 2004. Each has more than 25 years of experience working with troubled businesses and providing turnaround advisory and interim management services. Steve got his first taste of a troubled business when, as CFO of an 80-year-old chemical company, Bill Nightingale of Nightingale & Associates assisted him in taking the company through a Chapter 11 filing. The company subsequently emerged from bankruptcy with payment in full to all creditors. Steve then joined Nightingale, staying for 23 years and serving initially as a principal and eventually as president from 1994 to 2000. Doug began working at Nightingale in 1978 as a part-time resource for special projects. After working in this capacity for 10 years, Steve joined Nightingale full time in the late 1980s and became a principal in 1994. Both Steve and Doug have served in various C-level roles in troubled companies, including CEO, CFO, COO, and CRO.
To write this book, the Hopkinses drew upon their vast experience in dealing with troubled companies. They took 100 of the largest projects they have been involved in and applied a "disciplined analysis" to diagnose problem situations and produce
successful outcomes. These projects – helpfully set apart by shaded boxes – demonstrate the authors' theories and methods in dealing with troubled businesses. The authors also analyze some well-known cases like Enron, WorldCom, and Sunbeam to help the reader connect the dots in a very real sense and use the book for actionable advice.
The book is divided into five parts: 1) Conceptual Approach and Key Issues, 2) Managing the Crisis, 3) The Diagnosis Process, 4) Alternatives and Action Plans, and 5) Lessons Learned in 100 Completed Assignments. Each part has multiple chapters
expanding on these themes, and each chapter concludes with a recap of what was discussed. For speed readers and the time crunched, these recaps are an excellent way of extracting from the book the essence of what the authors are advocating.
So what about lopping off that head? The authors contend that management's role is much less pivotal than is commonly believed. The real issue when working with a troubled business is determining the viability of the business. To do that, the underlying causes must be identified at different stages of the corporate lifecycle. The authors categorize troubled businesses as Undisciplined Racehorses, Overburdened Workhorses, and Aging Mules. Only through a step-by-step diagnosis can the core problems be dealt with.
Pursuing a turnaround may not always be a viable and, in fact, in only one-third of the 100 cases the authors worked on did the company achieve a true operational turnaround.
Crafting Solutions for Troubled Businesses should be on the must-read list of anyone involved in dealing with, consulting for, or operating a troubled business.
John Wall is a Managing Director of NachmanHaysBrownstein, Inc.
From Edwin E. Smith, Bingham McCutchen LLP:
"This is an insightful, easy to read download of the broad and deep experiences of two of the turnaround industry's top professionals in the middle market. It is a great introduction to turnaround skills for the uninitiated and a good reminder of key approaches, values, and expectations for even the most experienced in the field. It should be a useful tool for managers, board members, investors, and lenders."
From Arthur B. Newman, Blackstone Group:
"Crafting Solutions for Troubled Businesses provides an analytical step-by-step work plan on how to identify and evaluate operational and capital structure challenges at "troubled companies." The authors bring decades of hands-on experience involving dozens of corporate turnaround situations and have created a valuable playbook for corporate lenders, management, and owners. Whether a company's challenges are attributed to a changing market, cyclical downturn or ineffective management, this book provides the roadmap on how to assess the problems, evaluate alternatives, and implement the right solution."
From D. J. Baker, Skadden, Arps, Slate, Meagher & Flom LLP:
"I read this penetrating analysis of the restructuring process with great interest. It provides invaluable insights and observations that will benefit anyone involved in a restructuring. The authors rely upon their decades of experience to provide a wealth of illuminating insights and practical suggestions. Their book will immediately take its place as one of the leading works in its field."
From Sharon Manewitz, TIAA-CREF:
"This is a must read for anyone who sits on a corporate board of directors. It provides practical insights from experienced professionals about how to view and confront management in the face of operational and competitive challenges."
From Jeffrey P. Fitts, GE Capital Funding:
"Crafting Solutions for Troubled Businesses is an insightful and constructive how-to guide to evaluating and dealing with troubled companies. The sensibilities to management and organizational issues and fact-based approach to evaluating problems which the authors set forth describes clearly what I attempt to obtain when hiring or recommending turnaround consultants."
From Deborah Hicks Midanek, Solon Group, Inc.:
"Stephen and Douglas Hopkins are masters of the art of moving troubled companies and the people involved with them through distress toward vibrant health. In this book, they provide a valuable, practical road map for all parties affected by the uncertainty of distress, and in a steady, no nonsense voice walk through the steps in the recovery process that are often overlooked in the heat of the moment. Most importantly, they remind us all that, in a world in which advisors and spread sheets proliferate, the people are important, and moving them toward ever greater clarity and unity of effort wins the day."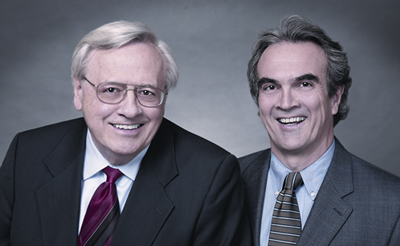 Stephen J. Hopkins and S. Douglas Hopkins, a father-son team, are founders and principals of Kestrel Consulting, LLC. Each has more than 25 years of experience working with troubled businesses, providing turnaround advisory and interim management services to a broad and diverse selection of middle management.
Steve Hopkins started his career with 18 years in financial management positions at the General Electric Company before turning his attention exclusively to assisting financially stressed organizations. Collectively, Steve and Doug have managed or had a major involvement in more than 150 projects, including such major bankruptcy cases as Evans Products, Fairfield Communities, Cuisinart, and Doskocil. Interim CEO assignments have included companies as diverse as World of Wonder (toys), Evans Financial (mortgage portfolio), Cerplex (electronic repairs), MAI-Europe (computers), Pinnacle Brands (sports trading cards), View Tech (video conferencing), Yorx (audio electronics), and Combined States Holding (international shipping). In connection with their various projects, the authors have completed more than 50 sales transactions involving troubled businesses.
Kestrel Consulting, LLC – Experience, Insight & Assistance for Troubled Solutions is at www.kestrelllc.com

Preface
v-x
Part I - Bad Management or Bad Business?
1
Introduction
1
Chapter 1: The Authors' Perspective:
Our Experiences and Biases
3
Chapter 2: Business Viability:
The Ignored Threshold Question
13
Chapter 3: Understanding the Nature of Business Problems:
Identifying Patterns of Risk and Opportunity
26
Chapter 4: The Challenge of Management:
Knowledge, Understanding, Insight, and Leadership
39
Part II - Managing the Crisis
59
Introduction
59
Chapter 5: First Do No Harm:
Legal, Operational, and Political Pitfalls
61
Chapter 6: Liquidity First:
Try Not to Bounce the Payroll Checks
71
Chapter 7: Who Wants What and Why?
Identifying Conflicting Agendas and Objectives
84
Part III - The Diagnosis Process
101
Introduction
101
Chapter 8: Conducting Management Interviews:
The Quickest Source for Identifying Problems and Solutions
103
Chapter 9: Understanding Operations Improvement Potential:
Where and Why Are You Losing Money?
117
Chapter 10: Evaluating the Competitive Environment:
Business Cycle and Competitive Issues
138
Chapter 11: Reviewing Management and Organization Structure:
Do Management Strengths and Business Processes Match Business Need?
155
Part IV - Alternatives and Action Plans
171
Introduction
171
Chapter 12: Developing and Evaluating Alternatives:
Establishing Realistic Options
173
Chapter 13: Reaching Consesus:
Negotiating Support for Realignment of Risk and Reward
191
Chapter 14: Selecting the Right Management:
Different Horses for Different Courses
200
Chapter 15: Maximizing Value From Asset Sales
The Parts May Be Worth More Than the Whole
214
Part V - Lessons Learned
225
Introduction
225
Chapter 16: Training Undisciplined Racehorses
227
Chapter 17: Lightening the Load of Overburdened Workhorses
240
Chapter 18: Rehabilitating Aging Mules
251
Part VI - Conclusions and Advice
263
Appendix A: Better Management Through Control of Cash
271
Appendix B: List of Exhibits
287
Bibliography
289
Index
292