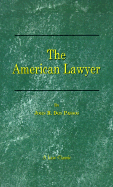 The American Lawyer: As He Was-As He Is-As He Can Be
By John Randolph Dos Passos


2000/04 - Beard Books - Law Classic
1587980029 - Paperback - Reprint - 191 pp.
US$34.95

Interesting reading of a lawyer's insight into the lawyer's full relations to society.

Publisher Comments

This insightful book goes beyond the technical works written about the obligations of lawyers, and addresses a lawyer's full relations to society. The specific questions focused on are: "What is a lawyer? What is his real mission? What relation does he bear to the government of which he is a citizen? What are his real duties to society?"

From the Federalist 98

This book written in 1907 by John Dos Passos, a New York lawyer, is exceptionally insightful. The author, a man of the highest moral standing and an accomplished legal scholar, recognized in 1907 the grievous harm that the legalprofession was inflicting upon the Nation. The philosophy he espouses, his concept of the proper ethos of the profession, is in keeping with the very highest moral approach to the law... The American Lawyer, is exceptionally insightful and revealing. He saw with great accuracy and foresight most of the ills that the legal profession had already brought upon the Nation, and many of the further disasters that would follow. Dos Passos (1844-1917), was a lawyer possessed of great moral commitment, who was not afraid to speak out concerning the 'ugly truth' about his profession.

John Randolph Dos Passos, 1814-1917, studied law privately. He was admitted to practice in Pennsylvania but then went to New York where he engaged in banking, corporate and financial law. He was active in the formation of large business amalagamations, including the so-called "sugar trust," AM Thread Co., and many others.

| | | |
| --- | --- | --- |
| Chapter I. | Introduction | 1 |
| Chapter II. | The Genealogy of the Lawyer | 7 |
| Chapter III. | A Parallel Between the Past and Present Lawyers of the United States | 12 |
| Chapter IV. | The Press, the Stage, the Literature, and the Bar, since the Civil War | 35 |
| Chapter V. | The Education of the Lawyer, and the Conditions under which He Is Authorized to Practice, and His Oath | 50 |
| Chapter VI. | Nature of Lawyer's Vocation | 68 |
| Chapter VII. | The Lawyer's Political Employment as a Legislator, and in Other Capacities. The Duties of a Legislator | 85 |
| Chapter VIII. | The Obligations of a Lawyer | 115 |
| Chapter IX. | The "Duties" of a Lawyer | 124 |
| Chapter X. | Causes and Remedies | 164 |