Technology and the Regulation of Financial Markets, Securities, Futures, and Banking
By Anthony Saunders and Lawrence J. White (editors)


2003/10 - Beard Books
1587982056 - Paperback - Reprint - 206 pp.
US$34.95
A stimulating mix of viewpoints and ideas on how best to respond to the changing relationship between technology and regulation.
Publisher Comments
When this book first appeared in 1986, revolutionary advances in telecommunications, automation, and computer technology had already brought major changes to the financial industry -- changes that provided new opportunities for financial markets, but also posed new challenges for regulators charged with monitoring and governing those markets. How had new technologies affected financial markets and their regulation? Here are answers from those who knew the issues best. Some of the specific issues addressed include: the responses of the Securities and Exchange Commission to new technology applications; innovations in market surveillance and enforcement; the changing structure of the securities brokerage industry; and the impact of improved trading floor technology, among others.

No book reviews available.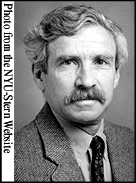 Lawrence J. White is the Arthur E. Imperatore Professor of Economics at the Stern School of Business, New York University. He has taken leave from NYU to serve in the U.S. Government three times: During 1986-1989 he was a Board Member on the Federal Home Loan Bank Board; during 1982-1983 he was the Chief Economist of the Antitrust Dvision of the U.S. Department of Justice; and in 1978-1979 he was a Senior Staff Economist on the President's Council of Economic Advisers. Among his publications is the S&L Debate: Public Policy Lessons for Bank and Thrift Regulation, and he is the co-editor of The Antitrust Revolution: Economics, Competition and Policy.
Other Beard Books by Lawrence J. White:
The Deregulation of the Banking and Securities Industries (with Lawrence G. Golberg)
Mergers and Acquisitions: Issues from the Mid-Century Merger Wave (with Michael Keenan)
Anthony Saunders is the John M. Schiff Professor of Finance and Chair of the Department of Finance at the Stern School of Business at New York University, where he has taught both undergraduate and graduate courses since 1978. He holds positions on the Board of Academic Consultants of the Federal Reserve Board of Governors as well as the Council of Research Advisors for the Federal Mortgage Association. He is an editor and associate editor of numerous financial journals and the author of a major textbook. Dr. Saunders received his Ph.D. from the London School of Economics.

Preface

ix
1.
Introduction
1
Anthony Saunders and Lawrence J. White


Part I. Securities Markets

5
2.
Regulatory Implications of Computerized Communications in Securities Markets
7
Charles C. Cox and Bruce A. Kohn

3.
The Technological Revolution in Securities Trading: Can Regulation Keep Up?
19
Richard O. Scribner

4.
Technological Change in the Back Office: Implications for Structure and Regulation of the Securities Industry
31
Henry F. Minnerop and Hans R. Stoll

Comment
53
Lee B. Spencer, Jr.

Comment
57
Robert A. Schwartz

Part II. Future Markets
61
5.
Technology Meets Regulation
63
Molly G. Baryley

6.
Self-Regulation and Futures Markets: Benefits from Technology Gains
73
Todd E. Petzel

7.
Productivity, Technological Change, and Futures Trading
79
Seymour Smidt

Comment
85
Roger D. Ruiz

Comment
91
Robert A. Schwartz


Part III. Banking Markets

95
8.
Payments Finality and Risk of Settlement Failure
97
David B. Humphrey

9.
Controlling Risk on Large-Dollar Wire Transfer Systems
121
William C. Dudley

10.
Technology and Bank Monitoring
137
Gregory F. Udell

Comment
155
Jarl G. Kallberg and Kenneth L. Parkinson

Comment
161
Frederick S. Hammer

Part IV. Overview
165
11.
Technology and the Clearing Function
167
Marc L. Berman

12.
Technology and New Regulatory Challenges in Futures Markets
171
Franklin R. Edwards

13.
The Interface between Technology and Regulation in Banking
181
Laurie S. Goodman

14.
Technology and the Regulation of Financial Markets
187
Edward J. Kane

Conference Participants

195
About the Editors

197