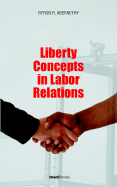 Liberty Concepts in Labor Relations
By Byron R. Abernathy


2000/01 - Beard Books - Business Classic
1893122875 - Paperback - Reprint - 123 pp.
US$34.95

Intriguing reading to fathom the opposing freedoms expounded by management and labor.

Publisher Comments

By briefly analyzing the freedoms of enterprise, of contract, of property, of association, to bargain collectively, to strike, and of expression, this study is aimed at discovering the real meaning of the concepts of liberty held by employers and employees to form a basis for reconciling the discordant attitudes. Intriguing reading for all interested in the history, politics, and economics of labor movements and legislation.

No book review available

Dr. Byron R. Abernathy, Ph.D. was a professor in the Department of Government at Texas Technological College in Lubbock, TX.

| | | |
| --- | --- | --- |
| I | The Meaning of Liberty | 1 |
| II | Freedom of Enterprise | 8 |
| III | Freedom of Contract | 14 |
| IV | Freedom of Property | 24 |
| V | Freedom of Association | 33 |
| VI | Freedom to Bargain Collectively | 50 |
| VII | Freedom to Strike | 63 |
| VIII | Freedom of Expression | 74 |
| IX | The Shepherd is a Tyrant | 82 |
| | Bibliographical Note | 93 |
| | References | 95 |
| | Index | 116 |