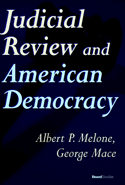 Judicial Review and American Democracy
By Albert P. Melone and George Mace


2004/09 - Beard Books
1587982390 - Paperback - Reprint - 296 pp.
US$34.95
This book is a good starting point for anyone interested in a fresh look at an old and endlessly debated subject, that of judicial review.
Publisher Comments
Stemming from the long-standing debate about the proper role and function of the Supreme Court, this enlightening and well-researched book sets forth a basis for the reader to assess the Court's role in shaping constitutional law, principles, and doctrines. The underlying issues are whether judicial review is a usurpation of power and whether it is consistent or compatible with democratic theory. Varying and often contradictory positions are explored. The questions of usurpation and compatibility are very difficult to resolve, and different people may reach different conclusions. Persons interested in the judicial process, the law, and politics will find this book balanced and informative.

From Presidential Studies Quarterly:
The authors have produced a valuable and fresh look at an old and endlessly-debated subject...It presents the debate in an informed, contemporary, and lucid manner.
From Michigan Law Review:
The book is a strong starting point for anyone interested in the rudiments of judicial review. A second and more compelling value of the book lies in its thematic organization...The book also presents an historical perspective which leads to a fuller understanding of these issues.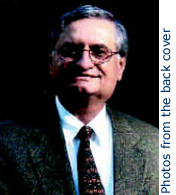 Albert P. Melone is a professor of political science at Southern Illinois University at Carbondale. He has been on the faculty since 1979. Prior to this, he taught at Idaho State University and was then a member and chairperson of the Department of Political Science at North Dakota State University. Melone is the author, co-author, and editor of eleven books. He has also written numerous scholarly articles, book chapters, encyclopedia pieces, and book reviews.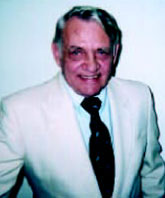 George Mace is emeritus faculty from Southern Illinois University at Carbondale and presently a faculty member at John A. Logan College, Carterville, Illinois. Mace is internationally published, and is a world renowned scholar highly regarded for his studies in western political and legal theory, democratic theory, and American constitutional history.

Preface
xi
Notes: An Explanation
xiv
I. Judicial Review and American Government
1.
Introduction
3
2.
The Historic Role of the Supreme Court as Interpreter of the Constitution
9
3.
The Scope of Judicial Review
21
4.
Marbury v. Madison: The Historical and Political Setting
37
5.
The Opinion
49
Marbury v. James Madison, Secretary of State of the United States
55

II. The Usurpation Question

6.
The Classic Rebuttal
67
Eakin v. Raub
69
7.
Thayer on Restraint
76
James B. Thayer, "The Origin and Scope of the American Doctrine of Constitutional Law"
78
8.
In Defense of Judicial Review
102
Horace H. Lurton, "A Government of Law or a Government of Men?"
104
9.
Justice Lurton Rebutted
118

L.B. Boudin, "Government by Judiciary"

120
10.
The Answer: Judicial Review and the Framers' Intent
145
Charles A. Beard. :The Supreme Court -- Usurper or Grantee?"
148

III. The Compatibility Question

11.
An Antifederalist View of the Undemocratic Nature of the Judiciary
177
Robert Yates, "Letters of Brutus: XI"
179
Robert Yates, "Letters of Brutus: XII"
184
Robert Yates, "Letters of Brutus: XV"
189
12.
The Judiciary as a Barrier to Encroachments of Representative Bodies
195
Alexander Hamilton, "Federalist 78"
198
Alexander Hamilton, "Federalist 81"
204
13.
Judicial Review as a Democratic Institution
208
Eugene V. Rostow. "The Democratic Character of Judicial Review"
210
14.
The Antidemocratic Nature of Judicial Review and a Good Democracy
236
George Mace. "The Democratic Compatibility of Judicial Review"
237
Albert P. Melone. "Limiting Supreme Court Jurisdiction"
253
15.
Judicial Review and Public Awareness
257
Albert P. Melone. "A Political Scientist Writes in Defense of The Brethren"
261
Bibliography
269
Index
279