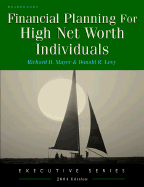 Financial Planning for High Net Worth Individuals
By Richard H. Mayer and Donald R. Levy


2004/03 - Beard Books - Executive Series
1587982323 - Paperback - 424 pp.
US$59.95
A comprehensive and authoritative guide by expert advisers to the art and science of wealth management.

Publisher Comments
This book is a comprehensive and authoritative guide to the art and science of wealth management. It is a source book that wealth management advisers can turn to when looking for in-depth answers. Collected here are the insights of expert advisers, presented in a thoughtful and thorough manner on the vital aspects of financial management. This is the ultimate reference tool for ways to preserve and enhance wealth. Innovative strategies and proven techniques are presented in a readable and practical way by the most respected practitioners in the field. Required reading for high net worth individuals as well as for every serious wealth management professional.

No book reviews available.

Richard H. Mayer, Chartered Life Underwriter, Registered Investment Advisor. Mr. Mayer has more than 40 years of experience in the insurance industry where he specializes in advising high net worth individuals and in developing executive compensation plans. He is the chairman of an insurance company in Bermuda. He is considered a leading expert in variable annuities and has pioneered the development of private placement variable life insurance. Mr. Mayer has designed the executive benefit plans of thirteen FORTUNE 500 companies. Mr. Mayer was an infantry captain during the Korean War where he was awarded the Bronze Star for Valor. He attended Wesleyan University in Middletown, Connecticut.
Donald R. Levy, JD, MBA, is an attorney and benefits consultant. A graduate of Harvard College (cum laude) and Harvard Law School, he also received an MBA in accounting from New York University where he received the New York State Society of CPAs prize for being first in his graduating class among accounting majors. A combat veteran of World War II, he practiced law with Wall Street firms, became Vice President in the employee benefit consulting department of Johnson & Higgins, and then became Vice President-Human Resources, Personnel and Industrial Relations, Policy and Planning at United States Tobacco Company (now UST, Inc.) from where he retired. Then as Senior Technical Consultant with Prentice Hall, he authored their updated Pension Handbook. He subsequently became Senior Technical Consultant for Research Institute of America. Mr. Levy has since authored or edited a number of books from his own office including the IRA Answer Book, Executive Compensation Treatise, 403(b) Answer Book, Guide to Cash Balance Plans, Quick Reference Guide to IRAs, and the State-by-State Guide to Managed Care Law. He has taught at the University of Connecticut and Mount Holyoke College, has served as panelist for the Practicing Law Institute, and has lectured before other professional groups.
Contributing writers:
David D. Avasthi is a consultant for U.S. and European corporations and insurers in traditional as well as cutting-edge product design and risk management. His insurance career has spanned over two decades in various senior management positions with insurance companies including AIG, CIGNA, and more recently with Munich Re/American Re where he was Group Vice-President for Innovative Business Solutions and Strategic Applications in Princeton, New Jersey and Munich, Germany. Mr. Avasthi has also had experience as a risk management consultant for corporations and insurance companies as an employee and resource for insurance brokers including Aon in New York and MBD Reinsurance Brokers in Brussels, Belgium. He was also the founder and chief executive officer of a successful managing general agent, which finally became part of the international credit insurer, COFACE, Paris. Mr. Avasthi holds an MBA from the Bernard M. Baruch Graduate School of Business.
Thomas J. Boczar, Esq., CFA, is the Director of Marketing/Financial Institutions for Twenty-First Securities Corporation, where he markets and assists in structuring innovative arbitrage, risk management, and hedged investment strategies to professional investors. His clients include a number of prominent banks, trust companies, investment advisers, brokerage firms, family offices, accounting firms, and other financial institutions. Mr. Boczar began his career as a tax accountant with Touche Ross. Later, he was a lawyer specializing in corporate finance and M&A with Mudge Ross Guthrie Alexander and Ferdon and at Cahill Gordon & Reindel. Mr. Boczar has authored numerous articles on stock concentration risk management and other applications of financial derivatives and has been a featured speaker at numerous conferences. He has also taught courses on tax planning for investors using equity derivatives and other financial instruments. Mr. Boczar holds a JD, an MBA, and a Masters in Professional Accounting and a BS in Finance, and has completed post-graduate coursework in Financial Engineering. Mr. Boczar is currently pursuing an LL.M. in Taxation from New York University School of Law. He is admitted to the bar in both New York and Connecticut. Mr. Boczar is also a Chartered Financial Analyst and is a member of the Education Task Force of the Private Wealth Management Committee of the New York Society of Security Analysts.
Michael Burns is a Partner and Deputy Team Leader of the Insurance Team within Appleby Spurling & Kempe's corporate/commercial department. Mr. Burns practices in the area of insurance, specializing in all aspects of insurance with an emphasis on rent-a-captives, life and annuity products, segregated accounts products, securitisation and risk and capital markets transformation structures, and associated insurance structures and products. He is also the Team Leader of the Segregated Accounts Products and Financial Structures Inter-disciplinary Practice Team and is responsible for all aspects of the development, promotion, and delivery of segregated accounts products to the firm's clients. Mr. Burns joined Appleby Spurling & Kempe as an Associate in June 1992. He became a Partner in April 1998. Prior to his tenure with the firm he worked for eight years in Canada, where he gained significant experience in the banking industry, as a law clerk to the Justices of the Federal Court of Canada, and as a lawyer with the leading Canadian law firm of McCarthy Tetrault. Mr. Burns holds a BA from Mount Alison University, Canada, an LL.B. and an MBA from Dalhousie University, Canada, and a Master of Law from the University of Cambridge, England. He has been a Fellow of the Institute of Canadian Bankers since 1982 and a member of the Bermuda Bar since January 1993. Mr. Burns is a member of the International Bar Association, the Law Society of Upper Canada and the Law Society of England and Wales. He has been a speaker at various international venues including the IBC Life & Annuities Forum, the International Captives Congress, and the World Captive Forum. Mr. Burns has written various articles on topics such as life and annuity products, rent-a-captives, segregated cells, and the role of Bermuda in the offshore world and is a periodic contributor to various publications including Global Reinsurance magazine, Offshore Investment, Bermuda Insurance Update, and Derivatives Report.
Craig R. Campbell is a principal of Tribeca Strategic Advisors, LLC, a tax and business planning firm for high net worth individuals; a principal of Tribeca Capital Management, LLC, a Registered Investment Advisor (RIA) based in Phoenix, Arizona; and a shareholder of Huish Campbell, P.C., a Phoenix, Arizona law firm practicing in the areas of tax law, business law, and estate planning. Mr. Campbell has conducted seminars for various legal, accounting, investment, and insurance professionals in the Phoenix area. Mr. Campbell graduated magna cum laude from Arizona State University with a BS in accountancy and was awarded the Arthur Andersen Outstanding Junior Award. He received numerous awards for accounting and business students. Mr. Campbell graduated from the College of Law at Arizona State University.
Christopher Carosa, CTFA, MBA, is President of Carosa, Stanton & DePaolo Asset Management, LLC, an SEC-registered investment adviser specializing in providing exclusive private investment counsel to individual trustees and fiduciaries who desire highly personalized portfolio management and who choose to emphasize a conservative long-term investment philosophy. The firm is a leader in using techniques derived from the new Nobel Prize-winning behavioral economics theory to help diminish downside risk and reduce fiduciary liability. Mr. Carosa also serves as President and Chairman of the Board of the Bullfinch Family of No-Load Mutual Funds, which includes the Western New York Series- the only mutual fund that invests primarily in companies with a significant economic presence in western New York (see www.bullfinchfund.com). Mr. Carosa is a Certified Trust and Financial Analyst. He received his undergraduate degree in Physics and Astronomy from Yale University and his MBA from the Simon School. A former host of The Western New York Investment Report on WWKB-AM, he is a respected speaker and has written numerous pieces pertaining to investing, including the book Due Diligence: The Individual Trustee's Guide to Selecting and Monitoring a Professional Investment Adviser (see www.carosastantonanddepaolo.com for details). Mr. Carosa has prepared articles based on his extensive and unique research in the area of behavioral economics and is currently researching a book tentatively titled A Road Mistaken: How to Profit by Avoiding the Seven Deadly Sins of Professional Money Managers. He is the President of the Upstate New York Chapter of the Financial Planning Association.
Robert N. Gordon is President of Twenty-First Securities Corporation, which he founded in 1983. Before founding Twenty-First Securities, Mr. Gordon was the partner in charge of risk and tax arbitrage at Oppenheimer & Company. Prior to that, he worked at Laidlaw, Adams & Peck, where he became a regional manager and senior vice president. He has been in the brokerage business since 1976. Since 1991, Mr. Gordon has served as an adjust professor at the New York University Graduate School of Business, teaching a course on applications of arbitrage theories. He has been involved with the Securities Industry Institute at the Wharton School since 1979, starting as a student, becoming a lecturer in 1983, and serving as chairman in 1994 and 1995. Mr. Gordon is also active in the Securities Industry Association, having served as an SIA director, as treasurer, as chairman of the Tax Policy Committee, and chairman of the New York District. He is a member of the Wall Street Tax Association. He is also on the boards of the Securities Industry Foundation for Economic Education and the Alder Planetarium in Chicago. Mr. Gordon is the co-author of Wall Street Secrets for Tax-Efficient Investing, which he wrote with Jan Rosen. He has also written several articles on arbitrage and hedging strategies, including a monthly column for On Wall Street magazine. He serves on the editorial advisory boards of Derivatives Report, The Journal of Taxation and Investments, and The Journal of Wealth Management. In addition, Mr. Gordon is a frequent lecturer, with engagements that include numerous for-profit seminars groups as well as annual speeches on derivatives at the SEC's International Institute for Securities Market Development and regularly lectures on the taxation of derivatives for the International Association of Financial Engineers.
Jay A. Harvey, CLU, ChFC, AEP, was Executive Vice President of Advisors Resource Group, Inc., in charge of all phases of private placement variable universal life insurance and high net worth financed insurance premiums. Mr. Harvey worked jointly with Mark P. Silverfarb, CEO of Advisors Resource Group, in training its national sales representative and outside related professionals in advanced uses of investment grade and death benefit oriented life insurance products; he advised national law firms, accounting firms, trust departments, and money managers on the use, design, and implementation of these products. In 2002, Mr. Harvey advised three major insurers on the redesign of their private placement products for both onshore and offshore versions and conducted seminars for the estate and tax partners of major law firms all over the country. Mr. Harvey was a frequent speaker and lecturer, having given several hundred lectures and seminars throughout his career. He received his BA from the University of Pennsylvania and his MA from Teachers College, Columbia University, and earned the designations of Chartered Life Underwriter and Chartered Financial Consultant from the American College in Bryn Mawr, Pennsylvania.
Edward Higgins was President of Higgins Advisory Group, a Darien, Connecticut-based firm established in 1980 to serve as a family office for a select group of clients seeking to centralize the management of their personal financial affairs. Corporations that provide this service to their key executives as a company-paid or -sponsored fringe benefit have also retained the firm. Higgins Advisory Group is a co-general partner of Bayberry-West Partners, L.P., an investment partnership that permits its clients to invest in a diversified portfolio of private hedge funds and managed accounts, most of which are either closed to new investors or that have minimum investment investors. Mr. Higgins was a graduate of Lafayette College and Georgetown Law School and has taken advanced courses in taxation at Georgetown and international law at the Parker School of Columbia University.
Karl N. Huish is a principle of Tribeca Strategic Advisors, LLC, a tax and business planning firm for high net worth individuals; a principal of Tribeca Capital Management, LLC, a Registered Investment Advisor (RIA) based in Phoenix, Arizona; and a shareholder of Huish Campbell, P.C., a Phoenix, Arizona law firm practicing in the areas of tax law, business law, and estate planning. Mr. Huish is a licensed attorney and a member of the State Bar of Arizona. He is a CERTIFIED FINANCIAL PLANNER practitioner (CFP practitioner), and had held the NASD Series 7 and other securities licenses. Mr Huish is a frequent lecturer on a variety of advanced tax and financial topics. He received his BA in economics from Brigham Young University, with highest honors, and his JD from the University of Chicago, with honors. He was the recipient of the John M. Olin Student Fellowship in Law & Economics at the University of Chicago Law School.
Barclay T. Leib is principal and founder of Sand Spring Advisors LLC, a Morristown, New Jersey-based financial advisory and alternative asset management firm. A 1981 Wilson Scholar graduate of Princeton University's Woodrow Wilson School of International and Public Affairs, Mr. Leib has worked in the global capital markets for over 21 years. He began his career at J.P. Morgan where he ran Commodity and Foreign Exchange Derivatives Trading until the end of 1986. In 1987, he accepted a position as First Vice President and head of the Proprietary Trading and Arbitrage Group within Paine Webber's Fixed Income Department. In 1989, he moved to J. Aron Goldman Sachs where he was a senior member of their global currency and commodity option trading teams until the end of 1992. Mr. Leib shifted primarily to strategy and hedge fund sales work between 1993 and 1998, working first as Vice President in Foreign Exchange Options Trading at Barclays Bank and then later at Societe Generale in a similar capacity. Throughout his years on bank trading floors, Mr. Leib worked extensively with derivatives, systematized trading models, and technical trading methodologies. Before founding Sand Spring Advisors in late 1999, Mr. Leib became a full-time market analyst and financial writer for the Princeton Economic Institute. He has also written on financial markets on a freelance basis for Derivatives Strategy magazine, Plan Sponsor magazine, Hedgeworld.com, PrudentBear.com, SafeHaven.com, Bloomberg, Financial Executive magazine, and Treasury & Risk Management magazine.
Charles C. Morgan is President, Nonqualified Benefit Funding, with Prudential Financial. Mr. Morgan joined Prudential as an Assistant General Counsel of the Law Department Tax Section in January 1976 where he was responsible for the tax and ERISA issues pertaining to pensions, life and health insurance, and insurance products. He moved to Group Operations in the spring of 1987 as a consultant on life and health benefit issues. Prior to joining Prudential, Mr. Morgan was affiliated with Massachusetts Mutual Life Insurance Company in Springfield, Massachusetts, and the Law Offices of Cornelius, Collins, Higgins and White in Nashville, Tennessee. Mr. Morgan has prepared benefits-related congressional testimony for Prudential and has testified on behalf of both Prudential and various insurance industry associations at numerous IRS hearings. He has written numerous articles on medical benefits and life insurance product issues and is a frequent speaker and panelist on retiree medical funding and other life and health plan topics. Mr. Morgan received his JD from the Vanderbilt University School of Law and his MBA from Pepperdine University. He received a BA from Wesleyan University. Mr. Morgan holds a professional designation as Chartered Life Underwriter as well as the Advanced Pension Certificate. He is licensed as an Investment Company and Variable Contracts Products Principal and an Investment Company and Variable Contracts Products Representative. Mr. Morgan is licensed to practice law in Massachusetts, New Jersey, and Texas.
Michael M. O'Mara is founder and senior officer of both O'Mara Financial, Inc. and Elm Street Partners, Inc. Founded in 1984, O'Mara Financial was initially an investment-banking firm dedicated to real estate and continues to operate a small portfolio of apartment communities. O'Mara Financial grew to become an investment firm specializing in investment analysis and research for a variety of clients including individuals, pension plans, and trusts. Founded in 1993, Elm Street Partners is the general partner of three hedge fund of fund partnerships for private investors and is dedicated to providing investment services for institutions and high net worth individuals. Prior to founding O'Mara Financial, Mr. O'Mara was a member of small marketing management team within the Boston corporate office of John Hancock. While with Hancock, he served as a member of the financial services acquisition committee. Registered as a general securities representative with the NASD, he is also a member of the National Futures Association and a registered Commodity Pool Operator (CPO) with the Commodity Futures Trading Commission. He is a graduate of the University of Arkansas.
David L. Smith, CLTC, spent five years as a U.S. Naval Officer before entering the insurance industry in 1964. During his career, he served as Vice President of Sales for two New England Life Insurance Companies and Vice President of Financial Services for an international insurance brokerage firm. In the mid-1990s he anticipated that long-term care insurance would play an increasingly important role in financial planning and protecting assets of older Americans. In 1999 he opened his office in Centerbrook, Connecticut dedicated to long-term care issues. Mr. Smith is a graduate of Bates College.
Martha S. Staniford is a member of Sontag Advisory LLC, a registered investment advisory firm providing wealth management, financial and estate planning, asset allocation, and investment management services to individuals, families, and related parties. Ms. Staniford, was previously responsible for overseeing and directing the development of CIBC Oppenheimer's Wealth Management Alliance (WMA) program. The WMA program was designed to provide a full complement of products and services for high net worth individuals, families, and family offices. She was also responsible for business development involving CIBC Oppenheimer's nonresident alien and international private client businesses. Before joining CIBC Oppenheimer, Ms. Staniford was a Managing Director at Bankers Trust Company and BT AlexBrown. She was responsible for the high net worth brokerage operation and the Latin American Private Banking Division within Banker's Trust's private bank as well as part of the Capital Markets Group and Investment Banking Division. She has also worked at Chase Bank, Rohm & Haas Company, and GTE Corporation.
Albert Swanke is an independent consultant to the insurance and related financial services industries. He has over 35 years of experience as a financial executive and venture capitalist. He has conceived, developed, and managed new businesses and handles mergers, acquisitions, and restructurings. Since early 2001, Mr. Swanke has been affiliated with Gill & Roeser, a New York-based financial adviser and reinsurance intermediary, where he is Senior Vice President. He was an active participant in their successful conception, development and funding of Olympus Re, a new Bermuda reinsurance company, in late 2001. Mr. Swanke served as Managing Director of The Firemark Group, Inc. from 1992 to 1997, with responsibility for private equity and investment banking, where he was instrumental in capitalizing two private equity insurance funds with more than $65 million. From 1987 to 1992, Mr. Swanke was a Principal of Insurance Venture Partners, a firm specializing in investment advisory services, venture capital, and strategic consulting, which he helped found in 1984. Prior to 1987, he served in financial management positions at American International Group, American Express Bank, and INA (CIGNA). He earned a BA degree from Yale University and an MBA from Columbia University.
Graham R. Taylor is a leading partner in the law firm of Altheimer & Gray's San Francisco office and is well known in the Australian-U.S. business, venture capital, and financial communities. Mr. Taylor is a director of the Australian-American Chamber of Commerce (San Francisco) and Chairman of the San Francisco-Sydney Sister City Committee. He has successfully represented many U.S. and Australian companies doing business across the Pacific, from start-ups to public companies. Mr. Taylor received LL.B. and B. Commerce degrees from the University of New South Wales, Australia in 1975 and his LL.M. from Yale Law School in 1978. He is a member of the Australian, New York and California Bars.
Pamela Woodburn, CFP, STI, TEP, is Senior Manager, Global Wealth Strategies with Royal Bank of Canada Private Banking, NYC. Based in California, she oversees the development and implementation of customized international wealth management solutions for high net worth clients in the South Western United States. These customized solutions encompass estate planning, minimization of tax and asset preservation, while utilizing international trusts, foundations, and companies. Canadian-born, Ms. Woodburn studied business administration and marketing at the British Columbia Institute of Technology in Vancouver between 1982 and 1984. She successfully completed the Canadian Securities Course, and joined the financial industry in 1988. Later, she received her Life & Disability Insurance License and subsequently obtained her Certified Financial Planner (CFP) and Specialist of the Trust Institute (STI) designations. Ms. Woodburn's experience has included brokerage, insurance, financial counseling, domestic trusts, and estate planning. During more than a decade of service with RBC Financial Group, she has received numerous awards, including the Bank's prestigious Leo Award. Ms. Woodburn is a member of the Canadian Association of Financial Planners, the Society of Trust & Estate Practitioners, and the International Tax Planning Association.
Kenneth A. Ziskin maintains a boutique "Family Wealthy Strategy" practice from his Los Angeles office. His practice emphasizes legal representation of individuals and families in connection with wealth strategies planning and implementation. Mr. Ziskin holds an "AV" rating from Martindale-Hubbell, which signifies that his "legal abilities are of the very highest standard" and his "professional ethics and conduct are above question." Mr. Ziskin was one of the first estate planning experts to become a Fellow of the Esperti Peterson Institute for planning for high net worth individuals and families. He served as an Adjunct Professor at the University of Southern California Law Center from 1991 to 1994 and has served two terms as a member of the Financial Institutions Committee of the State Bar of California and on numerous advisory committees and task forces set up by bank regulatory agencies. He is a member of the task force that rewrote the California Financial Code in the late 1970s and the author of several articles on financial, tax, and securities law matters and has also been active as a lecturer to professional groups. Mr. Ziskin has testified as an expert in Federal Court, and has been designated as an expert in several state court matters. He appeared regularly on The Business Channel (KWHY-TV 22) from 1996 through 1999 to discuss "Beyond the Living Trust" estate planning strategies. Mr. Ziskin received his JD from the University of Southern California Law Center in 1972, where he was Executive Editor of the Southern California Law Review and a member of the Order of the Coif national honor society.

| | |
| --- | --- |
| 1. | Introduction to Wealth Management |
| 2. | How to Select and Monitor a Professional Money Manager in the Era of Behavioral Economics |
| 3. | Wealth Preservation: The Roles and Responsibilities of an International Trustee |
| 4. | Going Offshore: Tax and Trust Aspects |
| 5. | Creation of a New Insurance Company |
| 6. | Home Security and Qualified Personal Residence Trusts |
| 7. | Evaluating and Investing in Hedge Funds |
| 8 | Enhancing After-Tax Investment Returns Through Swaps -- The Paradigm of Investment Tools |
| 9. | Tax-Efficient Single Stock Concentration Risk Management -- The State of the Art |
| 10. | The Family Office |
| 11. | Funding Nonqualified Deferred Compensation, Supplemental Executive Retirement, and 401(k) Mirror Plans |
| 12. | Private Placement Variable Universal Life |
| 13. | Section 529 Education Plans |
| 14. | Private Annuities |
| 15. | Long-Term Care |