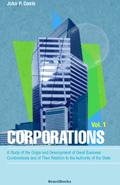 Corporations: A Study of the Origin and Development of Great Business Combinations and of Their Relation to the Authority of the State
By John P. Davis
2000/05 - Beard Books - Business Classic
Volume I - 318 pp.
158798010X - Paperback - Reprint
US$34.95

Volume II - 295 pp.
1587980118 - Paperback - Reprint
US$34.95





An early treatment of the history of corporations.
Publisher Comments
The purpose of this work is to trace the historical development of corporate forms and the social functions that have successively been performed within them. The subject of corporations is divided on the basis of those that have been of service to mankind under conditions prevalent in the past and those at the turn of the twentieth century. Covered are: ecclesiastical corporations; feudalism and corporations; municipalities; gilds; educational and eleemosynary corporations; national England; regulated companies; regulated exclusive companies; joint-stock companies; colonial companies; legal view of corporations; and modern corporations.

No book review available

John Patterson Davis, 1862-1903, was a lawyer, author, and economist. He received an A.M. and a Ph.D. from the University of Michigan in 1885 and 1894, respectively. He was admitted to the bar in 1888 and practiced in Omaha, Nebraska, 1888 to 1892. He practiced law in Idaho commencing in 1895.

Volume I.

I.
Introduction
1
II
The Nature of Corporations
13
III.
Ecclesiastical Corporations
35
IV.
Feudalism and Corporations
88
V.
Municipalities
92
VI.
Gilds
130
VII.
Educational and Eleemosynary Corporations
245

Volume II.

I.
Educational and Eleemosynary Corporations (Continued.)
1
II
National England
61
III.
Regulated Companies
66
IV.
Regulated Executive Companies
87
V.
Joint-Stock Companies
114
VI.
Colonial Companies
157
VII.
Legal View of Corporations
209
VIII.
Modern Corporations
248
Appendix
281
Index
285