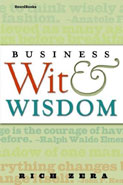 Business Wit and Wisdom


By Rich Zera
2005/05 - Beard Books
1587982560 - Paperback
US$34.95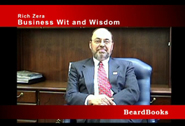 Rich Zera talks about Business With and Wisdom. Watch the video here.
A wonderful and useful collection of quotes, sayings and anecdotes for all occasions and purposes
Publisher Comments
This new book houses a masterful collection of sayings, anecdotes, and quotes to use and amuse. Thought provoking ideas and expressions can be found on every page, along with stories and quips to prompt a smile or a hearty chuckle. Conveniently grouped by subject, speakers can pan this gold mine for relevant nuggets, and readers can just enjoy the thoughts and meanings prompted by so many of the entries in this wonderful treasure chest.
From the Beard Books Press Release:
Twenty-five years ago, after a fruitless and frustrating effort to find easy-to-use resources to emphasize a point or introduce a topic, Zera began to jot down notes from books, magazines and newspapers he read, speeches he heard, and e-mails he received. His friends and professional associates also sent him quips and anecdotes too. Now, in Business Wit and Wisdom, Zera shares his collection with others. He explains, "I thought it would be a waste of my years of collecting to just hoard everything for myself and figured that my book would save other public speakers hours of work. I think that business people, attorneys, church leaders, heads of civic organization, teachers -- anyone who makes presentations and delivers speeches -- will find my book of value. I also imagine that the general public may enjoy Business Wit and Wisdom since many of its quotes, quips and stories are thought-provoking, funny, or poignant."
Zera is Vice President for Information Technology at Kutztown University of Pennsylvania. He has also worked for several major corporations, been a university administrator, and run his own consulting firm, which specialized in seminars on human relations, management, and data processing. Zera is a frequent speaker at seminars, conferences and conventions and the author of numerous articles for professional conferences and magazines.
The perfect resource for anyone who wants to use just the right quote, quip or anecdote to make a point. Business Wit and Wisdom covers nearly 200 different categories of topics ranging from ambition, anger and atheism, to wisdom, work, women, and youth.
A compendium of sayings, quips, and wise insights related to the business world.

No book reviews available.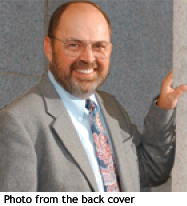 Rich Zera is Vice President for Information Technology at Kutztown University of Pennsylvania, which was named one of the "Best Mid-Atlantic Colleges" by the Princeton Review, and recipient of the CIO-100 Award as one of the top Information Technology organizations by CIO magazine. Rich has been a senior administrator in higher education for approximately 30 years, and has served as an adjunct professor at several colleges and universities. In addition, he has worked with hundreds of companies, governmental agencies, and other organizations on a consulting basis on topics including management, planning, group and interpersonal relations, and information technology. He has also been involved in leadership positions in various community, and public service organizations, as well as a speaker at numerous conferences and conventions. From these many speaking opportunities, he has developed a unique and carefully juried collection of "wit and wisdom" that he uses in preparing some of his own presentations. Based on the success of his earlier book, tens of thousands of people from all walks of business and other professions have found his collections to be an invaluable resource.

No table of contents available.