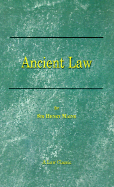 Ancient Law
By Henry James Sumner Maine


2000/08 - Beard Books - Law Classic
1587980681 - Paperback - Reprint - 256 pp.
US$34.95

The fascinating origins of human ideas and society as reflected in the law.

Publisher Comments

This book is engrossing reading for all who may be interested in the growth of human ideas and the origins of human society. Its object is to reveal some of the earliest ideas of mankind, reflected in Ancient Law, to point out the relation of those ideas to later thought. Early society, reflected in the law, begins with the group (the family), not with the individual. Covered are: ancient codes; legal fictions; law of nature and equity; the modern history of the law of nature; primitive society and ancient law; the early history of testamentary succession; ancient and modern ideas respecting wills and successions; the early history of property, contract, and delict and crime.

From Book News, Inc.:
In this reprint of the 1866 edition, legal historian Maine examines the evolution of the law, from the ancient to the modern world. His focus is on the gradual change from status-based societies, in which individuals were bound to traditional groups, to modern contract- based societies, in which autonomous individuals are free to make contracts and form associations with whomever they choose. The volume contains a new introduction by Dante J. Scala (politics, Saint Anselm College).

Sir Henry James Sumner Maine, 1822-1888, was a distinguished lawyer, academic, and civil servant in mid-Victorian England. He held chairs in Civil Law at Cambridge and Oxford, was the legal member of the Council of India, 1862-1869, and Master of Trinity Hall at Cambridge from 1877. He was a pioneer in the historical and comparative study of institutions, and his prolific writings had a great influence on modern anthropology.

| | | |
| --- | --- | --- |
| | Introduction to the Transaction Edition | |
| | Preface to the First Edition | |
| | Preface to the Third Edition | |
| I | Ancient Codes | 1 |
| II | Legal Fictions | 21 |
| III | Law of Nature and Equity | 44 |
| IV | The Modern History of the Law of Nature | 73 |
| V | Primitive Society and Ancient Law | 113 |
| VI | The Early History of Testamentary Succession | 171 |
| VII | Ancient and Modern Ideas Respecting Wills and Successions | 215 |
| VIII | The Early History of Property | 244 |
| IX | The Early History of Contract | 304 |
| X | The Early History of Delict and Crime | 367 |